Post by gantzgun74 on Feb 22, 2020 22:05:33 GMT -5
Unit fully loaded and ready, data successfully copied.

Now loading data from memory bank for review.
Full Name:
Ultra Metal Sonic
Nickname(s):
Mechon Metal Sonic, The New Metal Face, Mechon Metal
Age:
Irrelevant
Height:
6 foot, 5 inches
Weight:
4009 lbs
(The weight of the average car in our present generation)
Gender:
None
Race:
Robot
Alliance:
Directive: Living weapon with sole purpose of killing Sonic the Hedgehog.
Home:
Formerly Mobius, Currently Nexus Island
Franchise:
Sonic the Hedgehog (Now sporting parts, weapons, aesthetics and aerodynamics belonging to Xenoblade Chronicle's Metal Face)
Physical Description
Standing at 6 foot, 5 inches tall, this model has been described as intimidating by some, scary by others. Which suits this unit just fine. The previous machine that once was made up of these parts, apparently designated as 'Metal Face' had a unique style to him, from the lines along his faceplate that allowed energy to pulse freely from the eyes to the rest of the body, a golden crown installed to his head and numerous gold trims coating his body. Decorations that now belong to this unit to add to intimidation and superiority. Gaudy perhaps, since this glow pales in comparison to another such golden glow I know. Note to edit them out in future body meldings… Perhaps combine crown with quills to compliment the look.
Weapons and Accessories
Far too many to list, and yet it still does not feel like enough. The previous owner of these parts; designated Metal Face appeared to have the ability to transform itself into it's world's rendition of a fighter jet according to the data gathered, casting the assumption that even though the parts this unit have gathered are powerful and plentiful, this unit has not yet taken his new, true size…. Will save this option for later. For now? Smaller size means being harder to hit due to intense speed, granted to this unit by the genius of Doctor Eggman, now adapted to fit a new jet turbine capable of lifting a unit five to eight times this unit's current size. Along with that, this unit has also adapted 'Designation; Metal Face's' EMP cannon, capable of firing off bursts of electricity either in explosive sphere like bursts, or in a massive destructive beam… Note; The frills previously deposited seem to act as storage compartments for excess Electricity to act as a charging application, will need to find way to incorporate them in design, without potentially frying either the gattling gun arm or the rocket launcher arm added to this unit by Doctor Eggman.

As for this unit's concern on not having enough weapons to defeat Sonic the Hedgehog, the island holds many places to find new options to expand this unit's arsenal.
Abilities/Powers
[Typical of any version of Metal Sonic, but won't come up in Metal's report, he has gained the ability to body meld to some extent, thanks to watching a version of Chaos and copying the God of Destruction's ability to transform itself into liquid. Due to this power, Metal now has the ability to turn itself and any metal connected to it into liquid, allowing it to freely edit it's body at will.]
ALERT

ALERT

ALERT

Further study of metal used for new armor indicates a material and element not currently known to any element table on Earth. The Metal is too durable to match that of Polymer Alloy, the metal that Doctor Eggman uses to craft his robots that is powerful enough to withstand damage from standard fire arms. It has a means of conducting power throughout the body that requires minimal wires, almost as if the machine has taken notes from the bloodstreams of biological lifeforms, this feature allows for both efficient energy usage and minimal excess electricity surging out needlessly.

Consistent scans of the metal used in Designation; Metal Face's construction is proving fruitless. Without further context and finding the lab it was created in, the mysteries of this metal may be lost to this unit; set to only be found through practical experimentation and field testing… Thankfully, there are plenty of viable options for this.
Weaknesses
Thus far no weaknesses have been noted in this unit's new armor. Consistent study will be made however so the Hedgehog will not find an angle to exploit.
Skills
Once weapons are procured, target practice will become required, as well as practice with short range weaponry thanks to the hammer copied from a previous opponent.
Personality
[For now, Metal is a living weapon. That is the extent of his personality. However, recently he has been showing signs of cold calculation, sadistic pleasure and almost a love of blood letting.]
Irrelevant.
History
IRRELEVANT.
[When Metal Sonic was first activated, the first thing it saw was Eggman angrily ranting about his most consistent nemesis while his new creation came into the world. Now more determined then ever to find a means of defeating Sonic the Hedgehog, Eggman follows the thoughtframe of 'imitation being the sincerest form of flattery' and crafts a robot that copies all of Sonic's life data unto itself, turning it into a perfect counter to Sonic's amazing speed and abilities… However, what the good doctor failed to take into account was that, when Metal copied Sonic's life data unto itself, it also copied Sonic's memories, life experiences and philosophies unto itself, creating a robot that completely believed, beyond a shadow of a doubt, that it IS the true Sonic the Hedgehog.
This manic machine is used to kidnap Amy Rose during the Time Stone incident on Little Planet and eventually force a final confrontation against Sonic; a race both against time and each other as they ran towards the finish line, set to close a door hard on the loser to be roasted by a laser beam crafted by Eggman while the winner safely awaited the end of the devastation within. Metal was confident, Metal was agile, Metal was READY to face down this fake and prove once and for all that it was the true Sonic…. Only for the Blue Hedgehog to narrowly defeat him, subjecting Metal to slamming into a closed door followed quickly by a laser blast, obliterating it's body, and causing Eggman's machinery to overload, making the lose completely two-fold.
And thus the cycle would continue, but with each rematch, Sonic would take notice of something Metal Sonic had that completely separated him from all of the other badniks the blue boy had busted over the many attempts at global conquest; A strong will. With each rematch, it would come back, more certain and more ready then ever before to defeat Sonic and declare itself the one true Sonic the Hedgehog…. Only to be faced with maddening and worsening depression as each encounter ends with complete crushing defeat. Defeats that Metal Sonic itself cannot fathom or understand.
Here it is, the most powerful being in it's world, THE one true Sonic the Hedgehog, given upgrade after powerful upgrade, obtaining power after great power and yet no matter what he picks up and adapts his body to it's…
simply not enough.
Even when it was given an omni-powerful gemstone, capable of
warping reality around it
and transforming him into his titan like form Metal Sonic Kai, for whatever baffling, insanity sparking reason, Sonic simply can't lose.
It grew to be far too much for Metal Sonic to bear, as the Phantom Ruby sends the robot's mashed up remains through a portal to parts unknown.
Other
ALL ELSE IS IRRELEVANT. THIS SCAN IS NOW COMPLETE.

FULL CHARGE COMPLETE

FULL INTEGRATION WITH NEW PARTS COMPLETE

74% INCREASE IN CAPABILITY.

Now beginning operation.

Operation P.E.R.F.E.C.T.

P.REPARING
E.XTREME
R.ECTIFICATION
F.OR
E.NDING
C.ONTEMPTIBLE
T.ORTURER

Picture(s)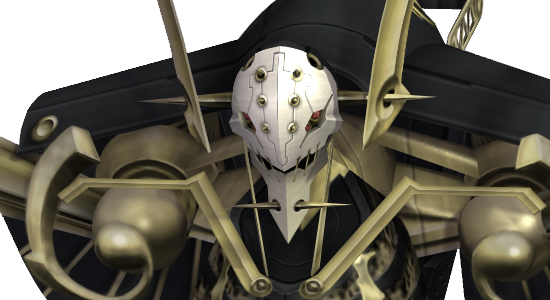 A reference to Metal Sonic's new faceplate modification.



A reference for all the kinds of parts Metal Sonic could have adapted to due to being repaired with Metal Face's parts