Post by gantzgun74 on Feb 22, 2020 22:15:00 GMT -5
Full Name:
Kunio
Nickname(s):
The Hot-Blooded Terror of Nekketsu High, Captain of the Dodgeball Team
Age:
17 (Currently a senior at Nekketsu High.)
Birthday:
November 27th (The same birthday as Bruce Lee as it turns out.)
Height:
175 cm (5'7")
Weight:
65 kg (143 lbs)
Gender:
Male
Race:
Human
Alliance:
Protagonist, delves into Chaotic Good
Home:
River City
Franchise:
Kunio-Kun (Otherwise known as River City here in the West)
Physical Description
Kunio, to the average viewer seeing him to the first time…. MIIIIGHT Not see much special about him. A punk hero dressed in a simple white overshirt with a red hooded shirt underneath it, simple brown hair with fairly thick eyebrows, a well built physique and a bandage on his face indicating a scar from a previous scrap. From head to toe, Kunio might not seem like much to those that don't know him…. But those that cross him might find that appearances are QUITE deceiving.
Weapons and Accessories
While Kunio is actually capable of using weapons commonly used on the streets of River City, he arrives on Dimensional Island with little more then his Cell-Phone, though sadly, it'll be incapable of calling in people from River City now that he seems to automatically be signed up to Dimensional Island's cellular service, a free cell-service given to all new arrivals on the island from more modern worlds. While it's very handy, it is notably a marketing gimmick to get people to sign up for the Island's interdimensional Wi-Fi service.
Abilities/Powers
While this ties directly into Kunio's skills, I feel it is very fitting to bring up his abilities here. If I had to put it very simply and very directly, Kunio's Willpower is perhaps his greatest asset and his greatest power. It's with his amazing Willpower that Kunio and indeed ALL of River City's resident natives can take an immense beating that would potentially hospitalize most normal people, and it's with this amazing willpower that River City is one of the most fight happy city's in all of media… Though perhaps I should slow down and go over it step by step; Kunio's SHEER HOT-BLOODEDNESS and Willpower allows him to normally do the following;
- Eat food placed before him almost within seconds and in one sitting,
- Acts as a Health-bar which lets him take normally DEVASTATING blows with at least SOME amount of ease, though this defense can be burst through if the opponent is simply that much stronger then him or he hasn't trained or kept up his strength recently.
- Gives him special and slightly superhuman abilities; from the ability to run faster, jump higher and punch harder given certain circumstances. Though in Kunio's case, the special abilities take the form of his hot-blooded nature raging into a tempest and becoming flames he can briefly summon from his fists and feet for physical altercations. As an extra added bonus, this Willpower also gives him and other River City Natives a 'Perfect Block' ability that, while tricky to pull off, can stagger any opponent regardless of strength.
Weaknesses
The only really SOLID counter to Kunio is simply to be able to
outfight him,
usually…. However that's not to say there can't be a solid weakness that isn't rare but applicable. As a character, Kunio is very weak to pretty girls. While he has few problems punching one out if she's attacking him first, this weakness can lead him into situations where he may accidentally break a heart or two along the way. To which these girls typically become fierce phantasms of SHEER RAGE, that will want to rip Kunio a new one.
Skills
With the above abilities in mind, Kunio is a budding talent in Martial Arts… And he applies these talents to ALL SORTS of fields and talents all throughout the realm of the Extra-curricular. Starting with Dodgeball, which he took up more consistently to keep in practice and because he enjoyed it, Kunio has since applied his martial arts skills and quick thinking to a LARGE NUMBER of sports; Soccer, Hockey, Basketball, Baseball, Volleyball, Track, Track with an obstacle course, climbing, Judo, Long Jump, Swimming, Hammer Throw and even in flat out Martial art competitions. Honestly with all of these things to do it's a wonder Kunio ever manages to get out of shape enough to keep getting jumped by new challengers all over town.
Personality
The big man on campus at Nekketsu High, one of the jockiest jocks to ever jock, you'd imagine that Kunio might be something of an unbearable ego due to his position and the sheer amount of influence and popularity it has given him over his tenure as a student at Nekketsu High…. And yet all of those assumptions would be proven wrong when those making them actually meet Kunio for themselves. With a heart of gold, Kunio is the type that cannot abandon those who are in trouble, fashioning himself a reputation as a kid who can be a bit of a bully hunter among his fellow students. All students in Nekketsu High know to not cause trouble when Kunio is nearby and all know to either stay out of his way or give back lunch money if he so happens to enter the same room to which the crime is taking place.
Yet, as the school's resident Banchō, this is not to say Kunio can't be a fierce competitor when enraged. As an example, when a Yakuza boss, for reasons yet unclear, ordered for a beat-down on Hiroshi, a friend of Kunio's who is the High School's honor student and one of the head mathletes, Kunio rolled up his sleeves and tracked down Hiroshi's attackers for answers, eventually beating up most of the major gangs in town all by his lonesome before soundly pulverizing the Yakuza Boss Sabu, dragging him to Hiroshi's room at the hospital to apologize and then handing him over to the police.
It's easy to call Kunio short-tempered (And that assumption would be correct), but when you're directing that anger to constructive means, who's to say that has to be all bad?
History
The above example is actually how Kunio's reputation as Nekketsu High's Banchō first began. When the Mob boss Sabu was sent to prison, word soon spread about Kunio's practically MIRACULOUS feat since, of course, the Yakuza is not really an organization you want to mess with for any reason. And yet Kunio messed with them and walked away from the experience unscathed… It was akin to opening the floodgates for all of the weirdos, crazies and nutjobs who thought themselves potential gang leaders or even talented fighters in River City to come to Kunio's door, seeking to challenge him to a duel and earn the reputation as the man/woman/trans-person that beat up Kunio. Among these potential challengers was a young man named Riki. Riki was the banchō of Hanazono High School, River City's essential juvenile facility still attempting to pass itself off as a reputable high school, and was Kunio's most consistent rival, the two of them competing tooth and nail between each other almost in all things.
When the challenges eventually dried up, still in his sophomore year in High School, Kunio soon turned his focus to extra-curricular activities, joining the Dodgeball club after an incident where a local River City Thug smacked him in the face with a Dodgeball and inspiring Kunio to pursue a sport that's none too different from his usual daily routine. After numerous championships, Kunio was soon dubbed the Captain of the Dodgeball team due to his ferocity and skill on the field and was soon approached by teams from other clubs to assist them in their own games as well. A special mention goes to the Nekketsu High Soccer team, headed by a head-strong and hot-blooded young female named Misako, who came to Kunio and his dodgeball team for help when it turned out someone had inflicted her entire team with food poisoning. And the story would seemingly repeat itself as time went on, with Kunio getting called up for more sporting events and more teams, making more friends with Nekketsu High's most prominent students all the while.
(Downtown – Nekketsu Monogatari AKA River City Ransom)
These silly shenanigans would be part of Kunio's normal life, inflating his ego to dangerous levels and turning him into quite the heartbreaker due to his love of pretty girls… Then the Double Dragon Brothers moved into Reihō Academy, another neighboring school to Nekketsu and Hanazono, took over all of the gangs within and set themselves up as the prominent powers within. While initially uninterested in the events due to seeing the Double Dragon Brothers as idiots, Riki is forced to listen when he learns that his girlfriend Mami had been kidnapped and the Double Dragon Brother's demands was a one on one match with him and Kunio. The two boys rush to Reihō High but along the way, they learn that just about EVERY DELINQUENT IN TOWN has been somehow stirred into a frenzy by whatever's going on at Reihō High. Whatever is going on, it's quickly made clear that the Double Dragon Brother's aren't the only ones responsible.
It's on the bridge leading to Reihō High that Kunio once more comes across a young school girl named Kazumi Hasebe, a girl he once knew in elementary school before she was sadly and unfortunately transferred to Reihō High along with another childhood friend of his named Yamada. During their separation, Hasebe had grown well and had gained the reputation of 'The Legendary sukeban', feared by almost everyone in her school district and potentially using that influence to become Reihō High's, Student Vice President. Using that influence and a number of intimidation tactics, Hasebe learns where Mami is being hidden within Reihō High and forwards the information to Kunio and Riki, warning them to be careful of the Double Dragon Brothers. When Kunio attempts to ask Hasebe about Yamada however, the girl sighs and only looks distraught.
When Riki and Kunio defeat the entire Reihō High student body, including the Double Dragon Brothers and rescues Mami, they quickly find out why on the roof of Reihō High. In a shocking twist of fate that blasts Kunio back down to Earth, he learns that his old childhood friend Yamada had actually been behind the entire thing, stirring essentially every delinquent in all of River City into an unstoppable frenzy using mysterious dark magicks that he had somehow obtained during his time away. Sensing the battle is to be a personal one, Riki leaves it to Kunio and rushes back down into the school to guide safely guide Mami out. A long arduous battle is fought before Kunio emerges victorious over Yamada's sneaky tricks and somewhat telekinetic abilities, beating his childhood friend to a pulp and turning him over to the police when they could finally be assed to arrive.
Kunio was never QUITE the same after that fight though. He blamed himself for whatever happened to Yamada since the boy seemed HELL-BENT on blaming this betrayal all on him… And it's only through getting a confession letter from Hasebe shortly after returning to Nekketsu High that he understands why. He remembered that Yamada had fallen in love with Hasebe back in Middle School almost as soon as he saw her, but, sadly, so had Kunio. The conflict of interest and feelings of guilt cause him to politely turn down Hasebe's feelings, at least for now. Hasebe reveals that she had tried dating Yamada for a time, but quickly grew to hate him due to how twisted he had allowed himself to become. While she personally feels no sympathy for Yamada, she at least understands why Kunio will need time to come to grips with everything.
Other events come and go after Yamada's attempted take over of River City, Sabu breaks out of prison and hires a look alike of Kunio and Riki to frame them for crimes they didn't commit, causing Kunio, Riki, Misako and her childhood pal Kyoko to take the fight to him, more sports tournaments with varying levels of silliness inherent due to the highly petty nature of which they were founded, Kunio dating Misako for a time but attempting to break things off gently when the two just didn't seem to click (It's entirely possible he didn't get the point across due to his more careful nature, gained after his encounter with Yamada), Yamada getting out of prison and causing problems here and there, leading to him and Kunio having a couple more fights as Kunio's Sophomore year in Nekketsu High drew to a close.
Who knows? Perhaps Senior Year will be a LOT quieter now that he's, HOPEFULLY settled all of his longstanding feuds.
Other
HAHAHAHAHAHAHA,
HAHAHAHAHAHAHHAHAHAHAHA-HAAAAAHAHAHAHAHAHAHAHAHA
Yeah, no~.
Kunio was just entering into his Senior Year in Nekketsu High and he was already challenged to another fight by none other then the Double Dragon Brothers, the two of them even beating up Hiroshi just to get him to take the challenge soo-
After making them apologize to Hiroshi before promptly kicking them out the hospital window, Kunio apologizes to Hiroshi too for constantly getting him in trouble, which Hiroshi just laughs off, saying his life would be pretty boring if he didn't have Kunio around to make things interesting.
Returning home from the hospital… Or rather what's left of it after it's blown up by Sabu (thank god his parents weren't home at the time), Kunio gathers up what's left of his belongings and prepares to head back to his new home in the suburbs near Nekketsu High….
When a mysterious portal opens up in an alleyway behind Merv Burger… And you know what they say…. 'Curiosity killed the cat.'
Picture(s)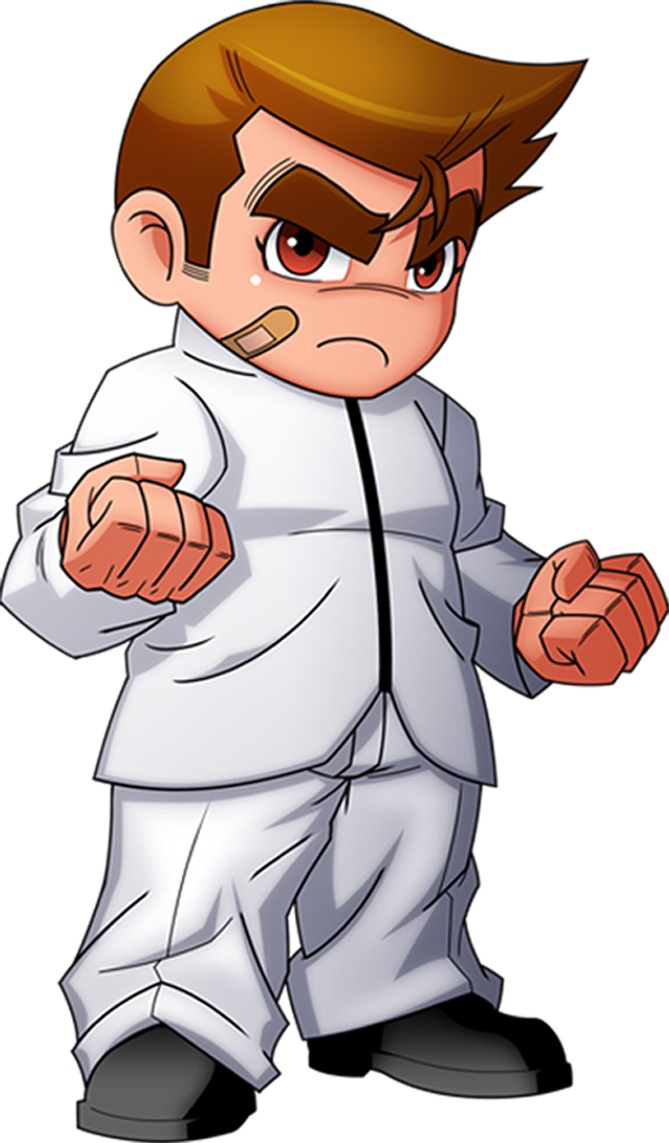 Kunio in his original formats in the older games.
Kunio and a collection of his school chums and rivals
Kunio of present time