Post by gantzgun74 on Feb 23, 2020 20:19:12 GMT -5
Full Name:
Shiro Mullbere
Nickname(s):
Wally, Wallace, Wallberry, Walnut
Age:
19 (………. ?)
Height:
5'5
Weight:
164
Gender:
Male
Race:
Sheikah
Alliance:
True Neutral (Or so he acts, in truth, he still loves his clan and would defend it in spite of circumstances)
Home:
Breath of the Wild!Hyrule, Formerly Kakariko Village, now a wanderer who lives day by day.
Franchise:
Original Character adapted for the Legend of Zelda continuity.
Physical Description
A young man with tanned skin, fairly different from most Sheikah, due to the fact that his primary job and interests involve being in the sun very consistently, exploring the wilds, camping out, hunting for food, just general outdoorsy stuff. Unlike the villagers of Kakariko Village, he's also dressed in Sheikah Ninja garb, combined with a red cape that can double as a hood to block out the sun and offer protection, that can also partially hide white hair and pointy ears, a trademark of the Sheikah.
Weapons and Accessories
As is typical for ninja, Wally carries a veritable arsenal for a tool kit around with him at all times; several kunai stashed in a belt hidden on his person with one hidden in his sleeve for immediate access, making him appear to be a pronounced knife user in head-to-head combat. Along with that, he also carries smoke pellets for making quick escapes, a grappling hook to scale large structures, a collection of caltrops to dissuade would be pursuers or to cripple vehicles, Hand claws for similar scaling purposes and he's constantly adding to his arsenal thanks to new ideas granted him by both inspiration from outside sources AND curio's and special interest shops in the El-Grande Mall.
Abilities/Powers
What makes Wally a curiosity among young shiekah is that he is STUNNINGLY well learned in ancient Shiekah techniques (Commonly known to only be known and used by old masters of the past three generations). These techniques are a mystery to all who see them in action though it's easy enough to guess what exactly they are with a careful and distinguishing eye. In essence, by summoning divine energy, through their sacred arts of Kuji-in, or the 'Nine Characters', which is a form of advanced mediation through the usage of hand signals to sign out nine symbols of meditation. With the mind calmed and divine and spiritual energy coursing through the body, Wally is now capable of a wide array of abilities present in both the Sheikah and Yiga movesets. They are as follows;
- The Usage of Runes; In Breath of the Wild, there exists special magical runes that can be installed into the Shiekah Slate to allow Link access to special abilities that would allow him to manipulate the world around him in any small number of ways presented to him. Among these runes are;


- Remote Trigger Bombs in both round and square shapes for those times when explosives are just necessary for the situation


- Magnesis, the ability to maneuver metallic objects no matter the weight or size, using them as weapons or simply removing them as obstacles.


-Stasis, The ability to freeze enemies in time for brief moments, allowing the user to either make a quick escape or perhaps take the opportunity to repeatedly strike the enemy. An added gain of the stasis rune is that not only do all of the attacks damage hit at once, so does all of the attack's MOMENTUM, possibly allowing to send the opponent or object FLYING.


- Cryonis, the ability to craft ice blocks and control them with similar ease to Magnesis. When Link uses Cryonis, he can use it as a simple vehicle to cross water, creating ice blocks on the surface of water. But advanced users (And Divine Beasts) can use this rune to craft Ice in mid-air for a variety of purposes and weapon based uses.


- Yet unsorted magical abilities; Among the rune based abilities however, there are also other techniques used by the Sheikah warriors, both Sheikah and Yiga in breath of the Wild. Among these techniques are;


Levitation, an ability Wally DOESN'T quite have down yet, though he very much wishes to.


Conjure Steel Balls from thin-air; in a clear mixing of Magnesis and Cryonis, some sheikah masters can craft massive steel balls from thin-air and manipulate them with the usage of Magnesis to attack their enemies.


Short range Teleportation


- Manipulate the Earth to create great winds and stone pillars, yet another ability Wally does not know. Though this is an ability he does not wish to learn as it's a heavily adapted Yiga art more then much else.


Conjure Divine blue barriers.


Manipulate Lightning


and create divine energy copies of oneself for combat.


When it comes right down to it, the Sheikah arts is a very wide and varied martial art with lots of distinct pluses to it's learning and mastering by masters and students alike, which weaponizes both the body and the spirit, as is present from the divine energy around the body which may have been summoned by the energy of the warrior's Soul, as spiritual energy is a big driving force for both the Divine Beasts via their champions and an important aspect in strengthening Link in Breath of the Wild.
Weaknesses
However, a quick look at Wally reveals that, for whatever reason, he's nowhere near as strong as he should be despite his encyclopedic knowledge of the Shiekah arts and abilities. It is almost as if while his mind is sharp and well-learned with age, his body is not yet acclimated to the techniques, even though he can often use a technique before realizing he probably shouldn't have done that. In this, Wally is horribly limited and is usually stuck using only the most basic of Shiekah techniques. At least for now.
Skills
It's clear before he arrived in Dimensional Island, Wally was a Vagabond. With this occupation, the young man is a skilled wayfinder, a fairly talented camp-fire cook with some knowledge of basic spices from around Hyrule.
Personality
The words that can be best used to describe Wally are 'Pleasant, but strange.' He appears to others who have just met him as naieve and unassuming, though talking to him for more then 10 seconds will reveal that this is FAR from the case, as he has a wisdom about him that far exceeds his physical age. Down to Earth and smart, the young man none the less puts his own personal preferences and satisfaction before many other things, even if he does show a propensity for helping those around him with their troubles. However, for all of his selfish wants, Wally does appear to be an inherently good person deep down, not exactly the honest sort, but still brave and true to his beliefs.
History
[

?]
[

?]
[

?]
[

?]
Prior to arriving on the island, Wally was assigned by his clan in present day Kakariko Village to go to the site of the Shrine of Resurrection where the Hylian Champion continued to sleep for the past 100 years after his perceived death by the current history books; atop a mysterious and unknown location known as the Great Plateau which was once regarded as the Birthplace of the Kingdom of Hyrule so many long centuries, maybe millenia, ago [with ruins vaguely mirroring the Hyrule Castle Town from the Legend of Zelda Ocarina of Time]. While Wally did take the long way around, he did arrive at the Great Plateau in time to recognize that the Hylian Champion had been awakened and was now running around Hyrule at this moment searching for answers.
However, on his…. ROUNDABOUT quest to locate him, Wally falls through a portal in an out of the way location on the Hylian Map, finding himself in Dimensional Island. In this new land, Wally found his confusion doubling as he joins in the community at Bonsai Village, passing himself off as a simple vagabond. Though he can also be hired as a informant and even a potential shadow warrior.
Other
Wally's story is going to be a story that slowly develops and grows over time, revealing more of his history as time and writing go on to reveal the exact reasons behind how he can do what he can do, how he learned it and the reasons why he learned in the first place. For the time being, you need only know that Wally's story is far more complicated then appearances might suggest and even the history given is a direct fabrication that Wally might come up with on his own if approached by someone who recognizes his abilities.
However, for all of his astonishing differences, this is still very much the Wally we know and love from previous iterations. He's a fairly comical character in spite of his new more serious backgrounds, and was crafted to be a bringer of smiles in hard times.
Picture(s)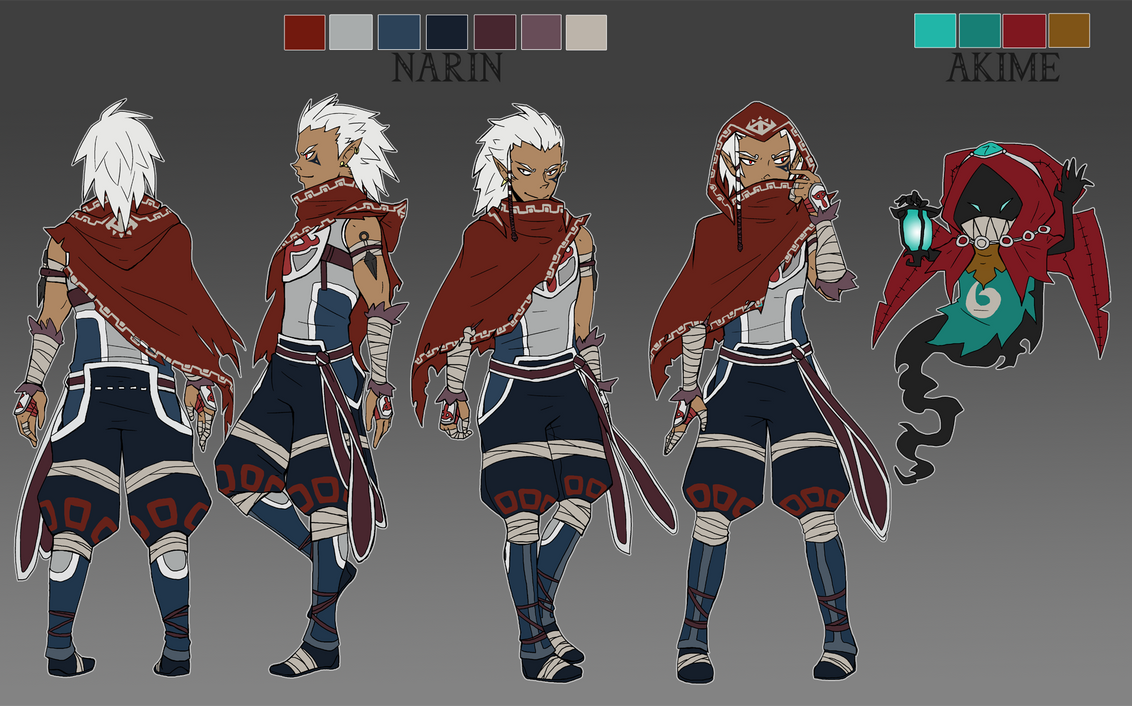 A good clothing, hair color, and skin-tone reference for the current version of Wally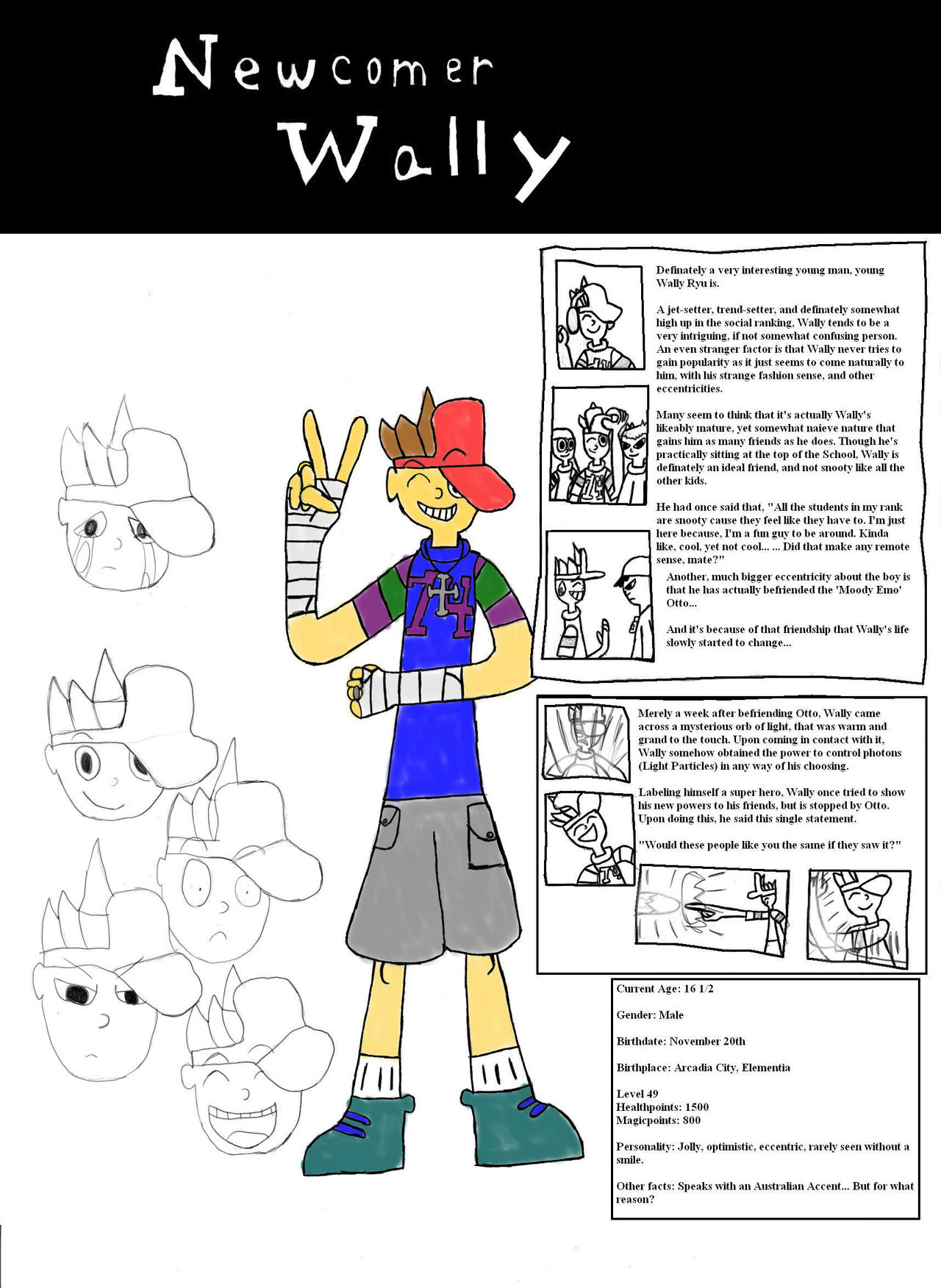 Sadly, the most RECENT bit of fanart I've done for Wally and posted online. Or rather, fan-art for the ORIGINAL version of him. However, this is a good indicator of what to go with in terms of tone and characterization to go with with the new guy.